During Microsoft Inspire, the conference dedicated to Microsoft partners, which is being held totally online this year, a big announcement was made regarding the world of virtualization or the presentation the next generation of Azure Stack HCI.
The term Azure Stack HCI is not new, because in 2018 Microsoft decided to rebrand to its hyperconvergence technology that until Windows Server 2016 was called Windows Server Storage Spaces Direct. With Windows Server 2019, the stack is intended as an ecosystem of different elements, which included the computational part, storage and networking. However, everything continued to revolve around Windows Server, which remains a heavy bandwagon to move if you look at the logic of a pure virtualization stack: this is where the revolution starts!
Azure Stack HCI H20 is SKU only for virtualization, which always takes advantage of the Hyper-V engine and Windows Server logic, however eliminating all those services that are not useful for the cause (es. Active Directory). From a technical level, this solution was the real big "missing point" by Microsoft, which has always had to rely on something more "complicated" to allow its customers to create hyperconverged infrastructures; in this way, it was possible to align with solutions such as VMware HCI and Nutanix, but with lower costs.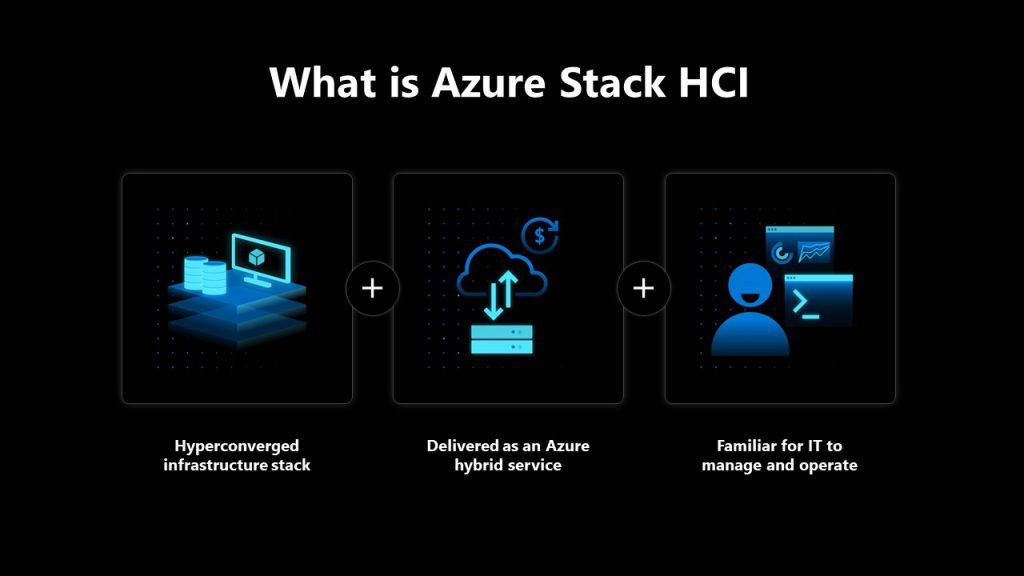 In the past Microsoft has tried on several occasions to create something that could allow companies to have a virtualization platform with a reduced effort. First with Hyper-V Server and then with Nano Server, but both solutions proved to be little loved by the public.
Differences
There are few differences between Azure Stack HCI and the classic Windows Server SKU:
Native integration with Azure: Azure Stack HCI integrates with Microsoft Azure and this will allow you to manage the local infrastructure, directly from the cloud but not only….so yes….Azure in mandatory
Self-Service: thanks to the previous point, it will be possible to create proxies for the creation of virtual machines without having to use external tools (eg Virtual Machine Manager). This aspect can be very useful for all IT Admin who need to authorize users to create objects independently
New Stretch Cluster: a new replication and Disaster Recovery system will be provided between geographically located locations, or two 10mt rack cabinets, with the possibility of setting automatic VM failover
Integrated support in Azure: this is perhaps the most important of all, because today the support model of the Windows Server part is very expensive. The starting price of the support is around 29 euro/ month
Complete stack update: thanks to the collaboration with the various hardware vendors, the platform will be updated in all its components, including firmware and drivers, including the operating system and without downtime, thanks to the Cluster Aware-Updating service already present in Windows Server
So the question may come spontaneously: what will happen to Hyper-V and Windows Server 2021 (or what will it be called)? Nothing….they will stay where they are, they will have the same functionality as Azure Stack HCI, except for some points mentioned above.
Pricing and Licensing
Azure Stack HCI H20 will cost around 10 euro/month for each core, where there is no minimum or maximum purchasable. Being a cost linked to Azure billing, there will be the possibility to better control the costs. The license covers all the various functionalities of the solution with the relative updates; the costs of the guest operating systems are not included and must be purchased separately.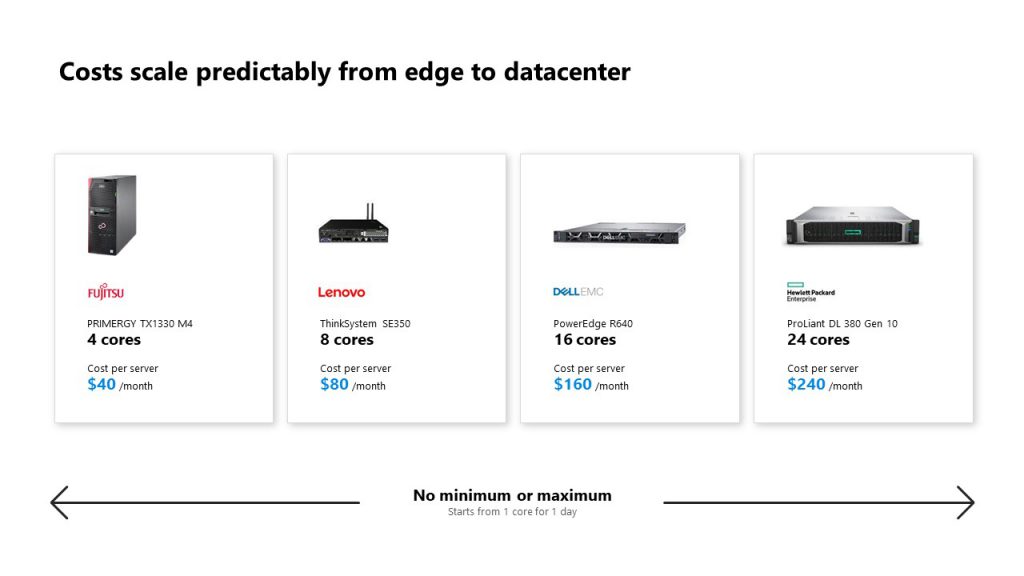 As said, Microsoft Azure is a requirement and not an option, but it is clear that Azure Stack HCI is not designed for a small company with a single server but for those companies that must have an infrastructure in hyperconvergence, easily manageable, scalable and can be integrated with the cloud.
Windows Admin Center
At the center of project, about management of the entire infrastructure, there's Windows Admin Center, which will allow you to create the primary resource, manage it, maintain it and administer it in the best way. The build v2007 already contains the elements to be able to start working with Azure Stack HCI, but clearly the product will follow the natural evolution of the platform. There will be support for PowerShell, System Center Operations Manager and Virtual Machine Manager, while some partners are already developing extensions to better integrate their products (e.g. the backup part).
Preview and Release
The preview is already available to be tested, without any operating cost and will remain so until the product leaves the test phase. The official release has not yet been announced but most likely it could arrive between the end of 2020 and the first quarter of 2021. Remember that the product is not supported in production, therefore tests must be conducted in a test environment.
Get Started
Download today Azure Stack HCI Preview
#DBS