Great news for AFS lovers because the product team has been published the news that the v5 is now available! Azure File Sync, as you know, is the solution to synchronize your local file server with Microsoft Azure; AFS can be used also to keep sync more file servers easily (DFS over HTTPS).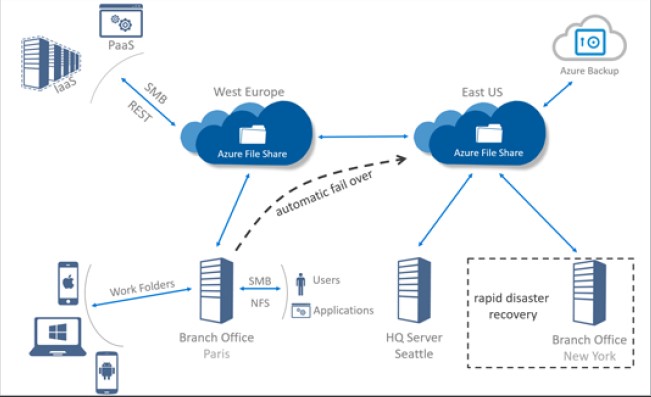 In case you had never play with AFS, check my article and build your lab through Azure Trial.
Here the list of improvements and issues that are fixed
Support for Azure Government cloud – Added preview support for the Azure Government cloud. This requires a white-listed subscription and a special agent download from Microsoft.
Support for Data Deduplication – Data Deduplication is now fully supported with cloud tiering enabled on Windows Server 2016 and Windows Server 2019. Enabling deduplication on a volume with cloud tiering enabled lets you cache more files on-premises without provisioning more storage.
Support for offline data transfer – Easily migrate large amounts of data into Azure File Sync via any means you choose. You can choose Azure Data Box, AzCopy and even third party migration services. No need to use massive amounts of bandwidth to get your data into Azure, in the case of Data Box – simply mail it there! To learn more, see Offline Data Transfer Docs. 
Improved sync performance – Customers with multiple server endpoints on the same volume may have experienced slow sync performance prior to this release. Azure File Sync creates a temporary VSS snapshot once a day on the server to sync files that have open handles. Sync now supports multiple server endpoints syncing on a volume when a VSS sync session is active. No more waiting for a VSS sync session to complete so sync can resume on other server endpoints on the volume.
Improved monitoring in the portal

Charts have been added in the Storage Sync Service portal to view:

Number of files synced
Size of data transferred
Number of files not syncing
Size of data recalled
Agent connectivity status

To learn more, see Monitor Azure File Sync.

Improved scalability and reliability – Maximum number of file system objects (directories and files) in a directory has increased to 1,000,000. Sync will try to resume data transfer rather than retransmitting when a transfer is interrupted for large files.
Agent Installation Notes
The Azure File Sync agent is supported on Windows Server 2012 R2, Windows Server 2016, and Windows Server 2019
Azure File Sync agent version 4.0.1.0 or a later version is required to upgrade existing agent installations
A restart may be required if files are in use during the installation
The agent version for the v5 release is 5.0.2.0
Get Started