Windows Server 2019 is now available for everyone and many companies planning the migration the new operating system to benefit the new features. The thrust of the new Windows Server 2019 has been focused on hybrid cloud environments and the virtualization is the hearth of everything.
In Windows Server 2019, Hyper-V introduces new features to support Microsoft Azure and on-premises as well; the continuous integration allows companies to migrate their workloads with low effort. The new engine of Hyper-V is not a revolution like we seen in Windows Server 2016 but is an improvement.
What new features and functionality is contained with the next release of Windows Server 2019 Hyper-V? Let's take a look at the following areas:
Version
Storage Spaces Direct
Shielded VM
Encrypted Subnets
Simplified Two-Node Clusters
Persistent Memory
Version
Hyper-V 2019 implements the configuration version 9, that is not compatible with previous version of Windows Server.

The new version introduces also new functionalities like:
Allow additional processor features for Perfmon
Automatically expose simultaneous multithreading configuration for VMs running on hosts using the Core Scheduler
Hibernation support
To upgrade the VM configuration you can use the Hyper-V Manager or the PowerShell cmdlet Update-VMVersion. Remember to check the compatibility list of your virtual machine before running the upgrade because the task is not reversible.

ReFS Deduplication
Resilient File System was first introduced in Windows Server 2012 as a replacement for the aging NTFS file system. During the previous editions we saw an improvement of this this component but one of the big limitations were not allowing to utilize deduplication and this is not good when you want to store many virtual machines because, as you know, there are many common blocks when the operating system is based on the same core. So, with Windows Server 2019 we can savings up to 90% of entire space when the VMs are based on same OS.
Storage Spaces Direct
S2D was introduced in Windows Server 2012 R2 with the idea to have a new storage model but was not a success until 2016 where the component was required to implement Hyper Converged Infrastructure.
Storage Spaces Direct features a built-in server-side cache to maximize storage performance. Create highly available, highly scalable software-defined storage at a fraction of the cost of traditional SAN or NAS arrays.

There are two deployment models:
The first one is a disaggregated model with Scale-out File Server (SoFS) atop Storage Spaces Direct to provide network-attached storage over SMB3 file shares. The Hyper-V hosts are independent from storage and this means attach stand-alone or cluster machines or using the SoFS to share resource for other services like SQL Database or File Server.
The second option is an aggregated model where storage and compute are in the same machine. This allows to reduce the costs but generate a dependency between components; we can add another node to the cluster but there's are fixed requirements to avoid validation losing.
In Windows Server 2019, the maximum storage per cluster is now 4 Petabytes – four times the previous limit.
Unless you plan to use a 3rd part storage, consider implementing S2D in your environment; it doesn't matter if your infrastructure has a single server or a cluster. Remember only that S2D is included only in Datacenter SKU.
Shielded VM
Shielded VMs allow critical virtual machines such as domain controllers to be encrypted when they are on disk. This helps to protect against rogue administrators or attackers from gaining access to the virtual disks, taking them to another Hyper-V environment and attempting to crack passwords at their leisure. It's true that most companies don't needs Shielded VM but if you are a Service Provider, if there are many Hyper-V Admins in your environment or if you have non-secure remote office, consider implementing this feature.
Windows Server 2019 introduce shielding for Linux VMs. Additionally, there is a new authorized host cache that allow caching VM keys for starting up virtual machines even when the host guardian service cannot be reached; this open the possibility to deploy Shielded also for branch offices.
Encrypted Subnets
Part of HCI model, Encrypted subnets allow administrators to specify subnets of traffic to encrypt in the Software Defined Network (SDN) infrastructure. This ensures that attackers who might have or gain physical access to the network infrastructure cannot sniff network traffic and see traffic traversing the software defined networking overlay to and from Hyper-V virtual machines.
Simplified Two-Node Clusters
The two-node technology greatly simplifies the witness share that can be utilized for quorum in a two-node configuration. Traditionally, this witness node had to exist on a file server on-premises or in Azure. While not that difficult to satisfy, Microsoft has taken this even further with the true two-node configuration. With true two-node, you can use a commodity router that supports mounting a USB key in a USB port on the router. The router then allows configuring a share and permissions to the share.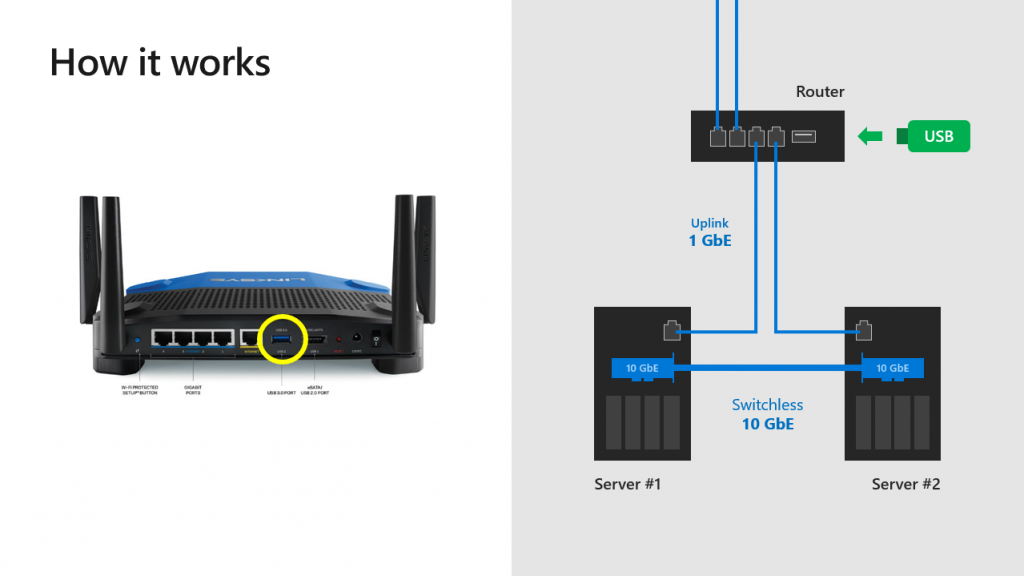 Persistent Memory
To leverage the high throughput and low latency of persistent memory (a.k.a. storage class memory) in virtual machines, it can now be projected directly into VMs. This can help to drastically reduce database transaction latency or reduce recovery times for low latency in-memory databases on failure. Persistent Memory was introducing in Windows Server 2016 but only for the physical server, with 2019 is same functionality is present inside VM. Right now, there are few limitations:
No VM Migrations
No runtime resizing
No Thin-Provisioning or Snapshots
Implemented through PowerShell
This kind of configuration allow Microsoft to achieve 13 million IOPs with only 8 server nodes.
Windows Admin Center
WAC is not a news, but the news is that the web console is the future to manage Hyper-V infrastructure – cluster or standalone. There will not be more investment on Hyper-V Manager or Failover Cluster Manager and PowerShell is the best way to manage Windows roles, so Windows Admin Center will be the focus on for Microsoft.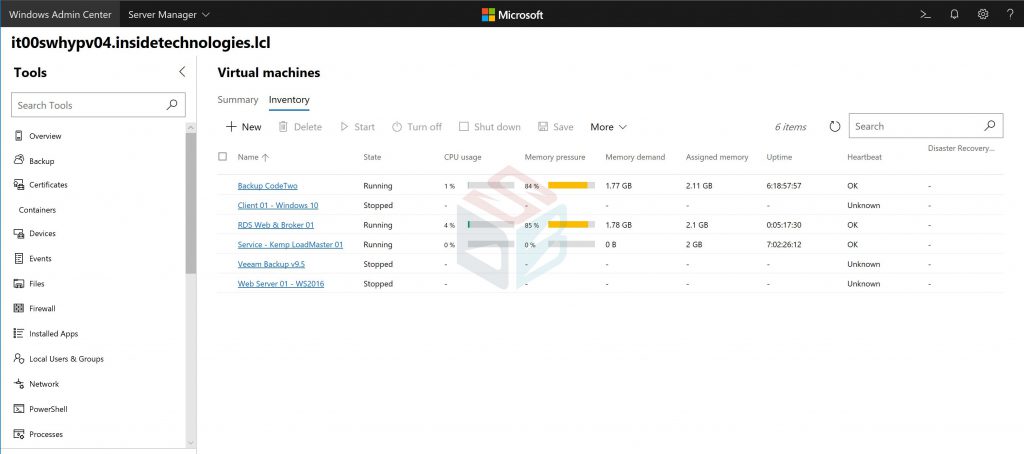 Conclusions
Windows Server 2019 doesn't introduce too much new features in Hyper-V role, but the product team has fixed some limitations to enhance the hybrid world and making Hyper-V as their enterprise datacenter hypervisor of choice.
#DBS