Cloud is cool, cloud means reduce the risk of failure and optimize the costs but behind the scenes there are a lot of dangerous. Many persons think that keep their data on the cloud is a good solution because there's no required create a protection plan. False!
It doesn't matter if your data still on-premises or on-cloud, the protection backup (aka Backup) is always a requirement!
About Office 365, from Microsoft we have the full protection about hardware and software failures, but if we need to restore a specific item there's no way to open a support case. As you know, the CryptoLocker was one of the most critical virus of last 5 years and many companies paid a big prize for not-security policies about protection. I saw companies lose their data on SharePoint Online just because they were confident about the possibility to ask Microsoft the full data restore (the result was to lose everything).
By the way, there are different ways to save the company data from Office 365 but today I want talk about CodeTwo Backup for Office 365.
For who doesn't know CodeTwo, is a trusted software vendor and Microsoft Partner delivering Office 365 and Exchange solutions to over 71,000 businesses from 150 countries.
CodeTwo Backup for Office 365 lets you perform full or incremental backups of selected Office 365 mailboxes and public folders, SharePoint Online and OneDrive for Business sites, as well as Teams data. These are the key features:
Back up Office 365 mailboxes
Back up Office 365 public folders
Back up SharePoint Online and OneDrive for Business
Back up Teams data
Migrate SharePoint Online and OneDrive for Business
Continuous incremental backup
Mailbox and public folders data safety
Cloud backup and storage on VM
Backup on demand or schedule automatic backups
Central management
Unlimited data retention and full control
Exporting to PST and automatic archiving
Brick-level backup
Granular recovery
Browse versions, search for items
Restore even to other mailboxes or Office 365 plans
Support for all item types
Deploy on a physical or virtual machine
No impact on users
Compliance with legal requirements
Setup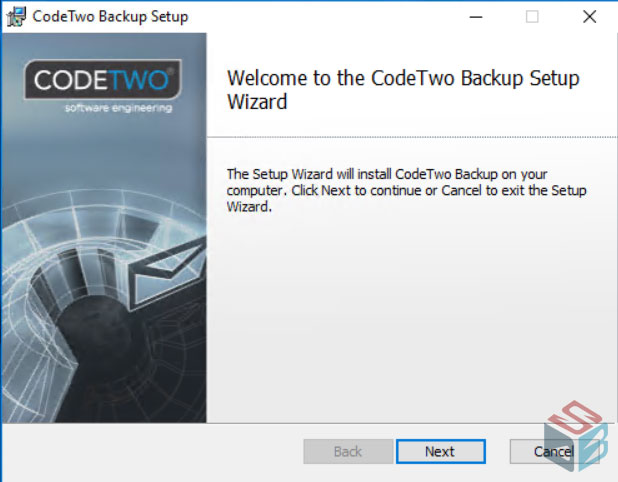 The setup is very easy, without strange questions so you just click next-next-finish.
After the first run, there will be a quick tour to introduce the product, the areas and the features.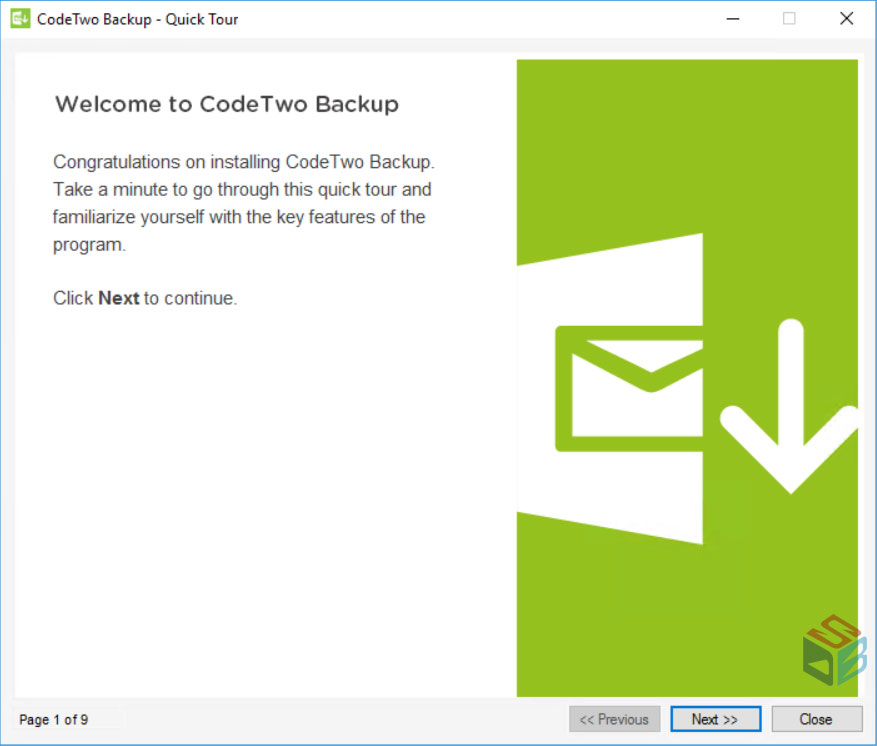 Protection Plan
In this article we will see how to protect Exchange Online, so create a new backup job for this component; insert a job name, figure 3, and go ahead. The name should follow a naming convention in case your plan is to create different jobs with different scopes and retentions.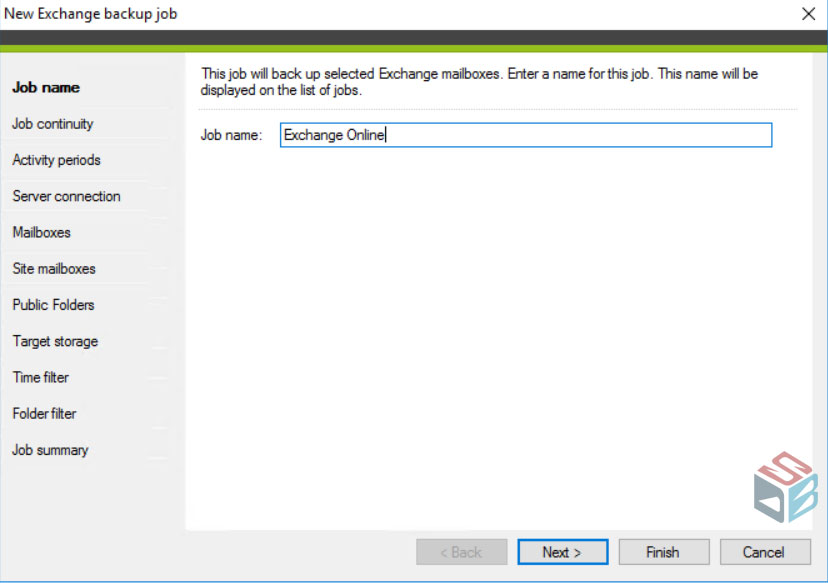 The continuity gives you the possibility to select the backup cycle (one shot or continuous). If you decide to run a continuous cycle, select a good timing delay to avoid overload or override between jobs. The job continuity walks side-by-side with Activity Periods, the schedule time on when the job must be executed.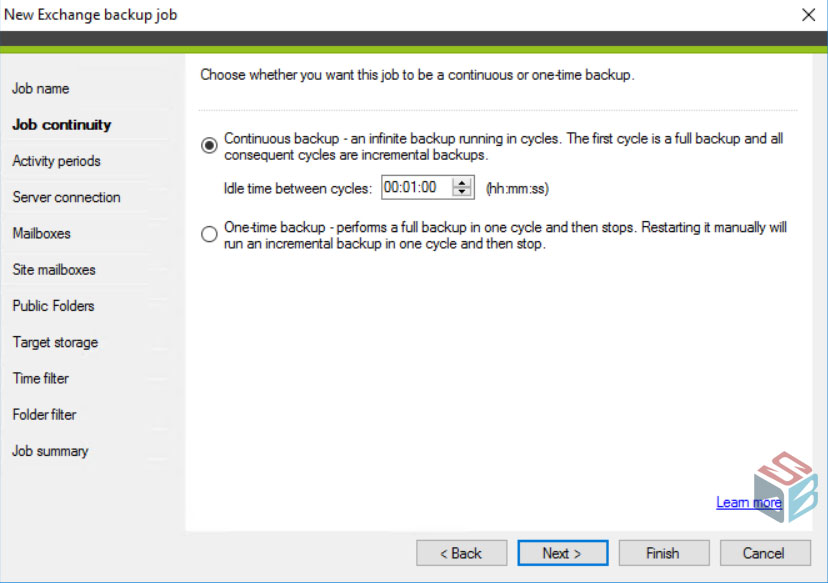 If you run this wizard for the first time, is necessary create also a new Server Connection to configure your cloud environment. CodeTwo supports Office 365 and Exchange Server On-Premises as well and this is a great news because we are able to manage hybrid scenarios without buy two products.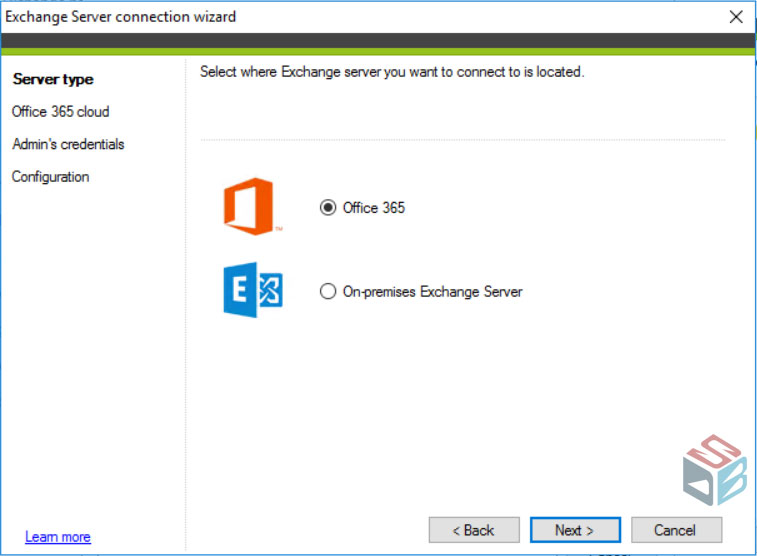 Another important feature is the full support to App Password, instead the classic one, so if you decided to protect the admin account with Multi-Factor Authentication (MFA) the CodeTwo Backup usage is not compromised.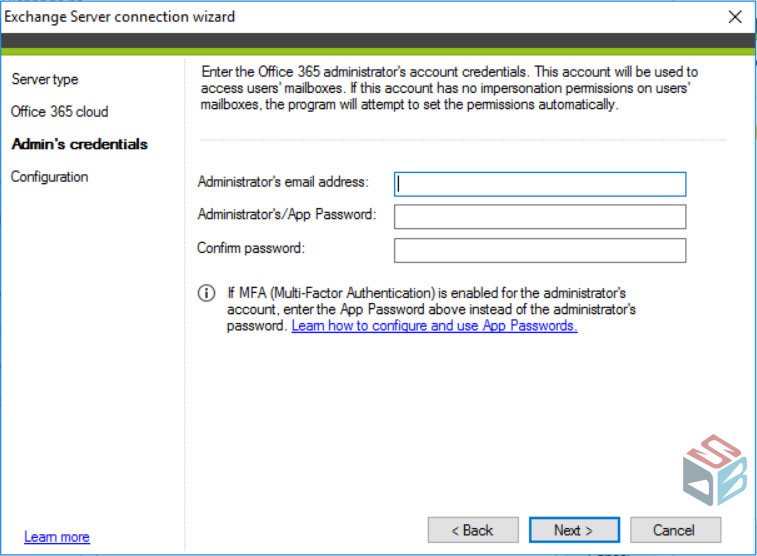 Validate the configuration, figure 7, and close the wizard.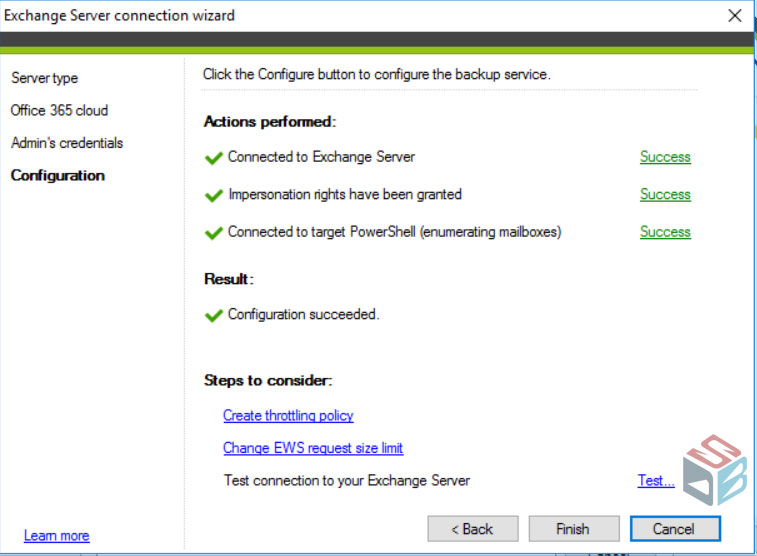 Select what kind of mailboxes protect as showed in figure 8. You can choose from a list or protect all existing and future one with the possibility to exclude specific objects.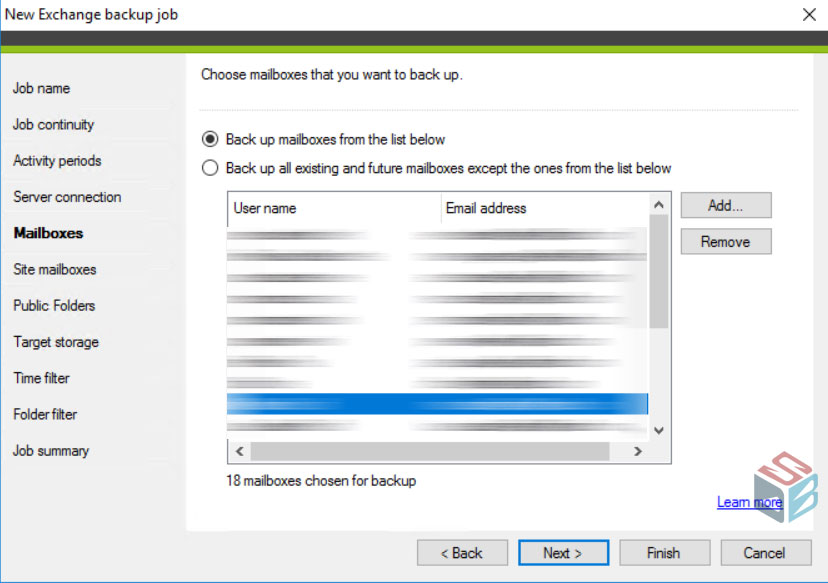 CodeTwo Backup for Office 365 supports also Site Mailboxes and Public Folders, this means protect some legacy items – like calendars on PF – without problem.
As similar from connection, if you run the wizard for the first time, you need to create a new repository a showed in figure 9. The storage should be in a different disk and could be split per scope (Exchange / SharePoint); remember that, in case you want use a single storage for everything, that retention days will be shared.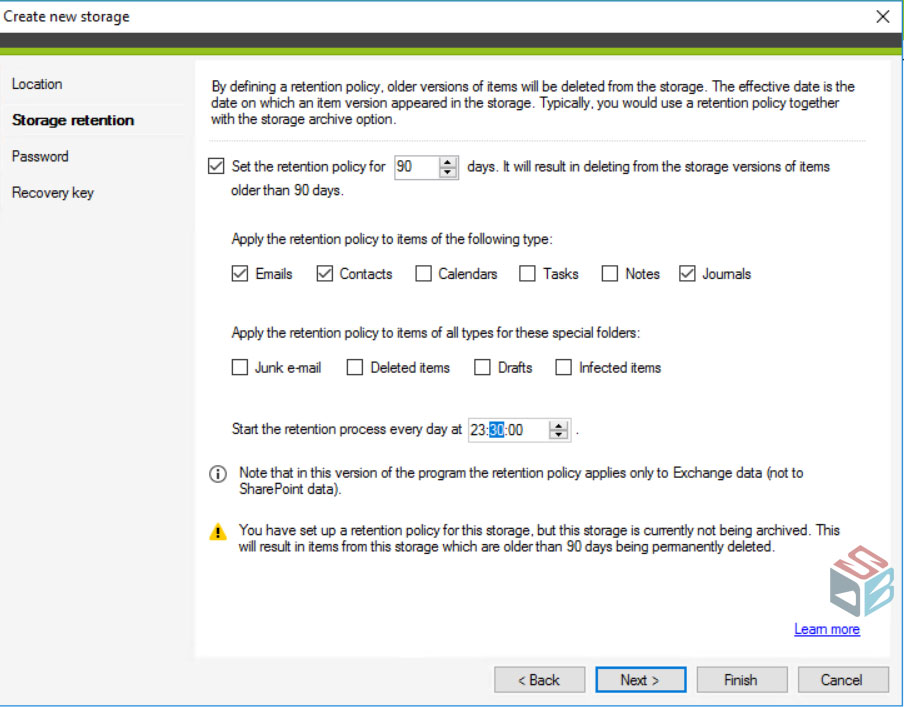 Before closing the wizard, remember to save the Recovery Key into another server or into a cloud repository. This will allow to restore the storage in case of server failure.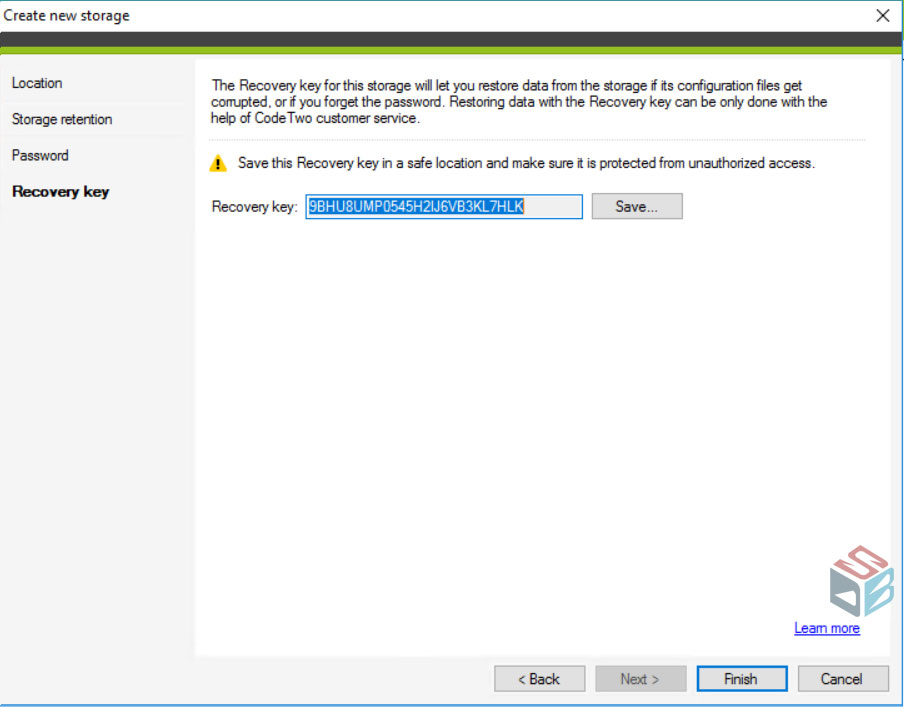 The last step is select what kind of item do not protect. The default settings are the preferred one, as showed in figure 11.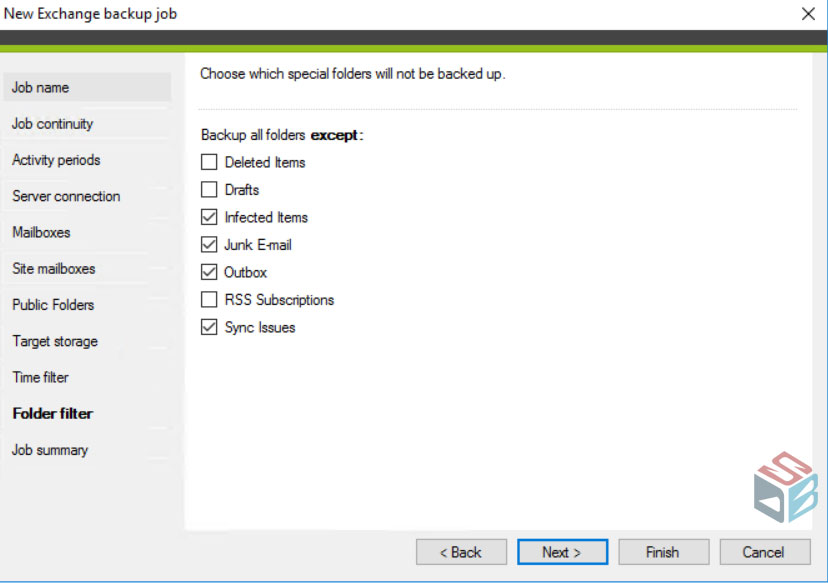 Close the wizard and waits the execution job (depends by your ISP connection and the items number). From the dashboard we can see the progression and job status.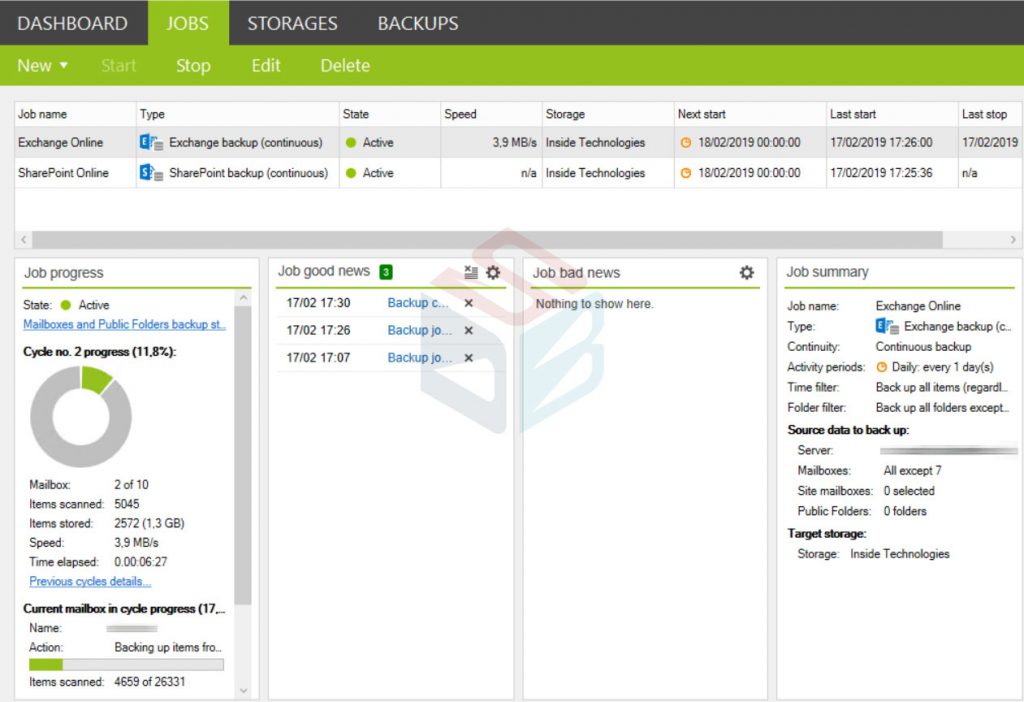 Restore
Restore data is very easy and can be done in few clicks. From the Backups area, select the target source, the folder and run the recovery wizard.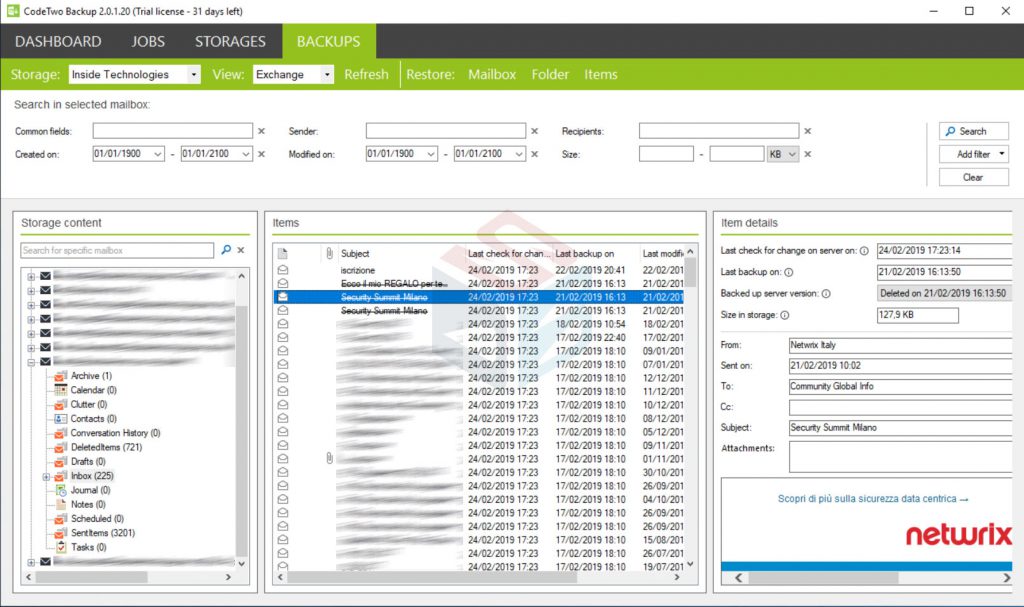 In this moment the restore is limited to original location or into a different mailbox, no way to restore single item or folder into a .pst file.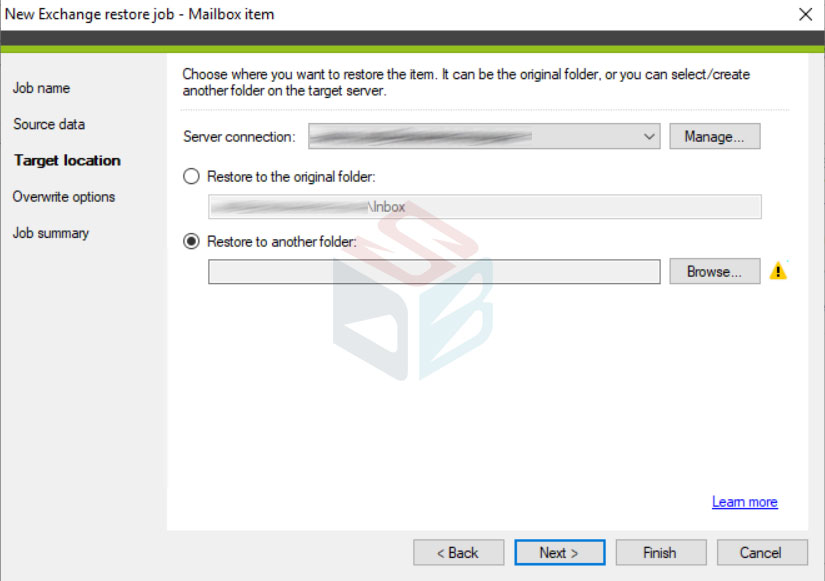 Conclusion
CodeTwo Backup for Office 365 is a great solution that allows every companies to protect their cloud data easily. The clear console shows job status and allows to restore our mailboxes, or single item, without spend too much time.
Get Started
Try today CodeTwo Backup for Office 365
#DBS