Configure Reporting Point on System Center 2012 R2 Configuration Manager is very simple, because there's the classic wizard to add a new role. But there are few little tasks that you need make to avoid this message:
An error has occurred during report process. (rsProcessingAborted) Cannot impersonate user for data source 'AutoGen__5C6358F2_4BB6_4a1b_A16E_8D96795D8602_'. (rsErrorImpersonatingUser) Log on failed. Ensure the user name and password are correct. (rsLogonFailed) Logon failure: the user has not been granted the requested logon type at this computer.
The error is generated by low permission of Reporting Services Point Role Account into the SRS IIS Folder. To resolve this, follow these tasks:
– Create a new AD User (example sccm.dwr) -> I prefer separate each single role for more security
– Create two groups into the SRS Server called ConfigMgr Report Users and ConfigMgr Report Administrators
– Add sccm.dwr into ConfigMgr Report Administrators and Authenticated Users into ConfigMgr Report Users
– Give the Read permission into folder SMS_SRSRP for group ConfigMgr Report Users and Modify permission for ConfigMgr Report Administrators, as showed in figure 1.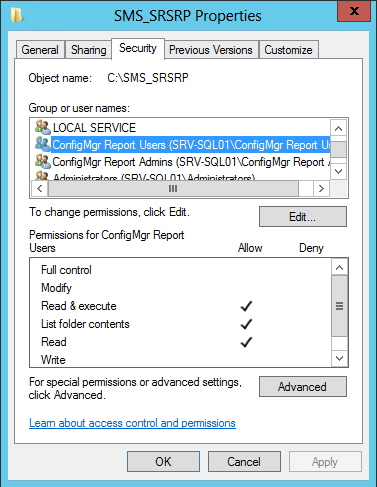 Figure 1 – NTFS Permission
– Change the Account into SCCM Console for the Reporting Services Point Role with the new AD User, as showed in figure 2.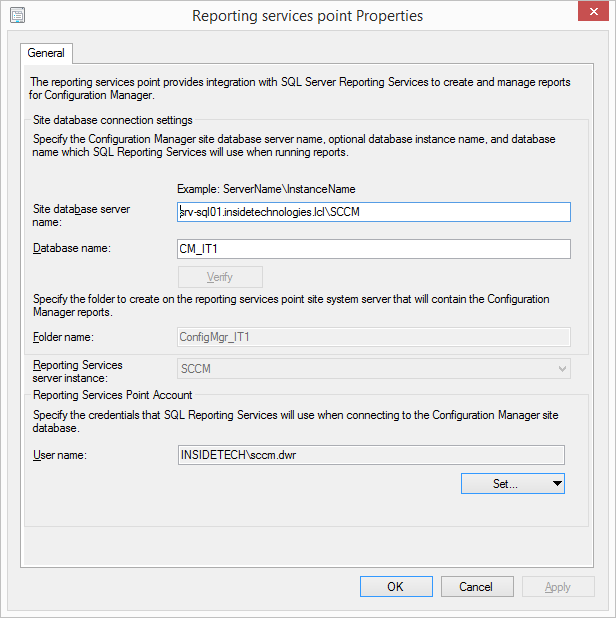 Figure 2 – New Account in SCCM
If you haven't already installed the role, do it now.
Finish! Now your Reporting Service Role is ready to generate thousand of reports.
S